2021-03-07 15:37:54
Facebook Paid Advertising Agency in Los Angeles
Your Top-Rated Facebook Advertising Services Company
Join us and get an edge on your competitors.
Get Started
Why You Need Facebook Advertising Services
If you want to reach a larger base of prospective customers on Facebook, we can help you target them. You will not only be able to target them based on their demographics (age, gender, marital status, income, education, etc) and locations but also on their interests, behaviors, activity, and much more. Along with targeting, persona-driven content marketing is another great option we offer.
At Coalition Technologies, we have a pool of certified Facebook Ads professionals who will help you increase revenue, sales, and leads. Contact us today to see how quickly we can take your business to the next level.
Get a FREE Project Plan and Scope Now
Get Your Brand Noticed!
Use the power of social media to grow your business with Facebook advertising services. Social media is rapidly growing as an incredible asset for connecting brands with potential customers. If you're not already using it in your marketing strategy, you're missing out on a great opportunity!
Coalition Technologies helps brands reach and connect with relevant audiences, allowing you to get your products and services in front of a much wider audience. Our social media marketing team does everything from setting up your social media profiles to creating and executing posts and ads that engage your audience and compel them to take action.
Our Social Marketing Services
Social Media Strategy
We develop results-driven social media strategies backed by hard data. We do extensive research to prepare a well-defined strategy that will allow us to target the right audience for your business. We then create content that engages those users and turns them into conversions.
Social Media Management
Increasing your audience on Facebook can help grow your business, but the people who actively engage with the brand are an essential part of that growth. We create content that encourages interaction and engagement with your brand to both build a following and deepen customer loyalty.
Influencer Marketing
Working with influencers can be a great way to increase the visibility of your brand and interact with a larger prospective customer base, which can lead to increased sales, conversion, and revenue.
Social Ads
You can reach a vast number of people using Facebook ads. We target the most appropriate audience for your brand based on their location, demographics, interests, habits, and much more. Facebook ads give us the ability to reach people who have the same habits or interests as someone who already made a purchase from your site.
A large percentage of potential Facebook conversions are lost due to a lackluster ad strategy.
Let us help you make the most of every Facebook view and increase your revenue.
The Benefits of Working with Coalition
Focus
Increasing online sales and constantly improving ROAS is the main focus of our Facebook Ads strategies.
Experience
We create strategies using hard data, scientifically proven methods, and our many years of experience.
Transparency
We offer an unmatched level of transparency that is hard to find in our industry.
Success
Your success is our success, and we have over 600 case studies that prove our commitment.
Certified Google Ads Premier Partner
World-renowned digital marketing professionals
Custom software that brings our clients results
600+ successful client case studies
110+ Google reviews with a 4.7 average
50+ Facebook reviews with a 4.8 average
1,200+ reviews on Featured Customers with a 4.7 average
How Our Facebook Advertising Agency Works
Some of the most important methods our team uses to optimize your local business include: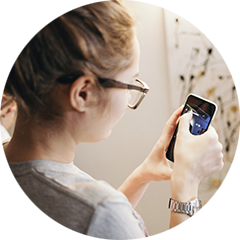 1
Facebook Ad Discovery
We ensure that your business is highly visible to search engines, as well as your target audience, by placing your business name, phone number, and address on your site regularly. At the same time, citations list these details consistently across on the internet.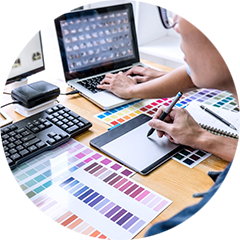 2
Facebook Ad Development
The next step is to develop ad copy for which we have a dedicated team of copywriters who all are specialists in your domain. For high-quality banners, we have an awesome team of designers. You always have the opportunity to review and provide feedback on our ad assets before they go live.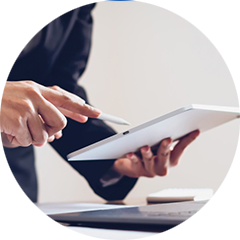 3
Facebook Ad optimization
We always implement ads with the goal of testing different types of ads to find what's working. Comparing single image ads with carousel and slideshow ads gives us insights on what's working for you. We keep reviewing data and take steps that further increase revenue and ROAS. Ad type, content, and targeting method are top priorities for us when we optimize for better performance.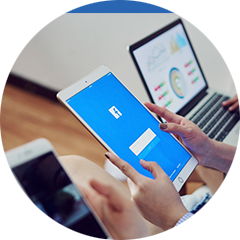 4
Facebook Monitoring
As a business owner, it can be difficult to find the time to monitor various aspects of your account. As a part of our service, we will manage and monitor your Facebook ads consistently. We ensure that everything is up and running for your account and review your budget, catalog and pixel status, website status, and many more checkpoints every day.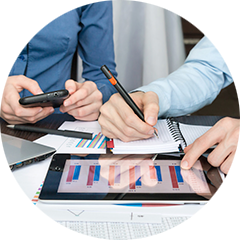 5
Facebook Reporting
It's essential for you to know how your campaigns are performing. Every month, we deliver a comprehensive report on your campaign performance and other important details that matter to you. You will also have the opportunity to speak to us about the campaigns we are running, the results, and any other queries you might have about campaigns, our work, and so on.
Featured Projects
magnolia boutique
Discover how our Facebook and Instagram advertising campaigns achieved an astounding 1000% ROI for this fashion boutique.
emmer & oat
Find out how we increased revenue by 1600% in just one month with our Facebook and Instagram advertising campaigns.
Only at Coalition Technologies
Facebook Marketing Partner
ROI-driven campaign planning
Persona-driven content marketing strategy
Influence psychological drivers that encourage
prospects to buy
Split testing on several levels to identifying
profitable entities
What Our Clients Are Saying
They consistently went above to improve our website every month we worked with them. Their team put in far more work than required by their contract to ensure that they delivered the highest quality product possible. A lot of SEO companies are going to say whatever they can to get you to sign and commit to them, they were never pushy and simply let their work speak for themselves. Everyone was incredibly knowledgable, prompt, professional yet personal, and a pleasure to work with. I honestly don't have any bad things to say.
Their digital marketing efforts have fostered year-over-year organic growth in conversion rates and revenue. Coalition Technologies is professional, committed, and responsive. They manage the collaboration well and provide actionable advice, ultimately delivering top-tier results. Beyond their good results and high professionalism, Coalition Technologies is amicable and pleasant to work with. They feel like they're part of our team. They frequently make suggestions that are outside of the project scope but are incredibly helpful. It's reassuring to know that they check on the site and have a vested interest in it.
The work has been hugely successful, with dramatic increases in both site traffic and revenue. The team works independently, provides bi-monthly updates, and are always aware of the latest trends in digital strategy. They put a lot of thought into the SEO strategies, and that knowledge is something we can't replicate. They're also really transparent. I've used other companies that claim everything's proprietary, but Coalition gives us access to everything. They're very reliable. I trust them completely, which is really nice. I haven't been able to do that with other firms.
Superior Content. Superior Results.
If you want to reach a larger audience on Facebook and increase your revenue, get in touch with us today. Our team of social media marketing specialists will review your website and provide you with an analysis, strategy, and timeline that includes a competitor strategy review for free. We can get you started immediately, so call us right now at (310) 827-3890.